I got my Refrigerator Dill Pickle recipe from allrecipes. I like it so much I've made 3 batches so far with very little modification.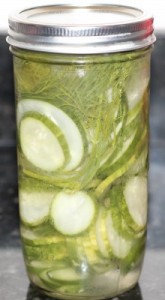 Refrigerator Dill Pickles
3 1/2 cups water
1 1/4 cups white vinegar
1 tablespoon sugar
1 tablespoon canning salt (regular table salt will work too but the canning salt dissolves faster)
2 medium cucumbers sliced
2 heads fresh dill
Put water, vinegar, sugar, and salt in a pan on the stove. Bring to a rolling boil, stirring occasionally. Once the water mixture boils, turn it off and let set an hour or so until completely cooled. This is very important. If you pour hot water over your sliced cucumbers you'll get mushy pickles because the hot water will "cook" your pickles a little bit.
After the water is cooled, slice up your cucumbers and put them in two large mason jars (or any other jar of your choice). Add 1 head of dill per jar. Pour water mixture over cucumbers until they are fully covered and/or your jar is full.
Put the lid on and let set in the fridge for at least 1 week before eating. I think they're best after at least 2 weeks.