I received these free to review
We love s'mores! Especially this time of year. And considering how many marshmallows and chocolate we go through every week, I was super excited to try these stuffed puffs!
First things first, I had to rescue them from my little guy. They arrived in the mail and he was pretty sure that he had received a package for him alone. Once I got them from him, and hid them, we planned our s'mores night.
We had to re-schedule a couple of times because of weather. But, eventually, we had a dry evening and were ready for s'mores.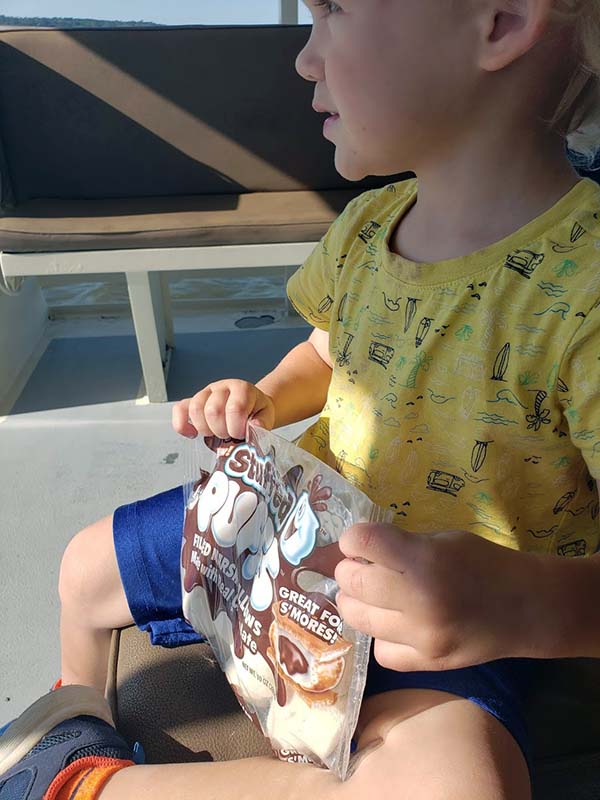 My first concern was, "how are these going to stay on the stick?". You know, will they melt too fast? This turned out to not be a problem. Yay! I had visions of chocolate dripping out of the marshmallow and everything ending up in the fire.
These roasted up quite nicely. They did get soft pretty quickly, so I didn't get mine as brown as I usually prefer, but I was worried about losing the marshmallow. The kids don't roast theirs as long as I do. So this wasn't a problem for them.
The marshmallow is a little stickier than my usual marshmallow, so I think something is a little different, just to make sure that the chocolate stays in the marshmallow while roasting. But taste was great.
All in all, I was pretty please with these. The chocolate tastes good, and especially with kids, having the chocolate inside the marshmallow was one less step to s'mores making.
This is definitely a product that's going on my s'mores making list for the rest of the summer!