I received this Bible free for purposes of my review. All opinions are my own.
About
The ESV Illuminated Bible places the full ESV text alongside over 500 elegantly hand-lettered gold ink illustrations by renowned artist Dana Tanamachi. Printed on thick cream-colored paper, the Bible's single-column text setting and wide margins provide generous space for additional notes, prayers, and designs—inviting readers to creatively engage with and reflect on the beauty of God's Word.
• 9-point, Lexicon
• Black letter text
• 2-color printing
• 64 full-page, custom book opener illustrations
• 50 full-page verse illustrations
• 250+ hand-lettered margin verses
• 100+ other illustrations throughout
• Illustrated by Dana Tanamachi, whose work has been featured by Google, The Wall Street Journal, Random House, USPS, and Target
• Thick, cream-colored paper
• Wide margins
• Single-column, paragraph format
• Smyth-sewn binding
• Packaging: Permanent Slipcase
• Dana Tanamachi is an American lettering artist, graphic designer, and illustrator whose exquisite typographic murals ignited the worldwide chalk-lettering trend. She has been commissioned by clients such as Instagram, Target, Google, Time Magazine, Nike, and West Elm.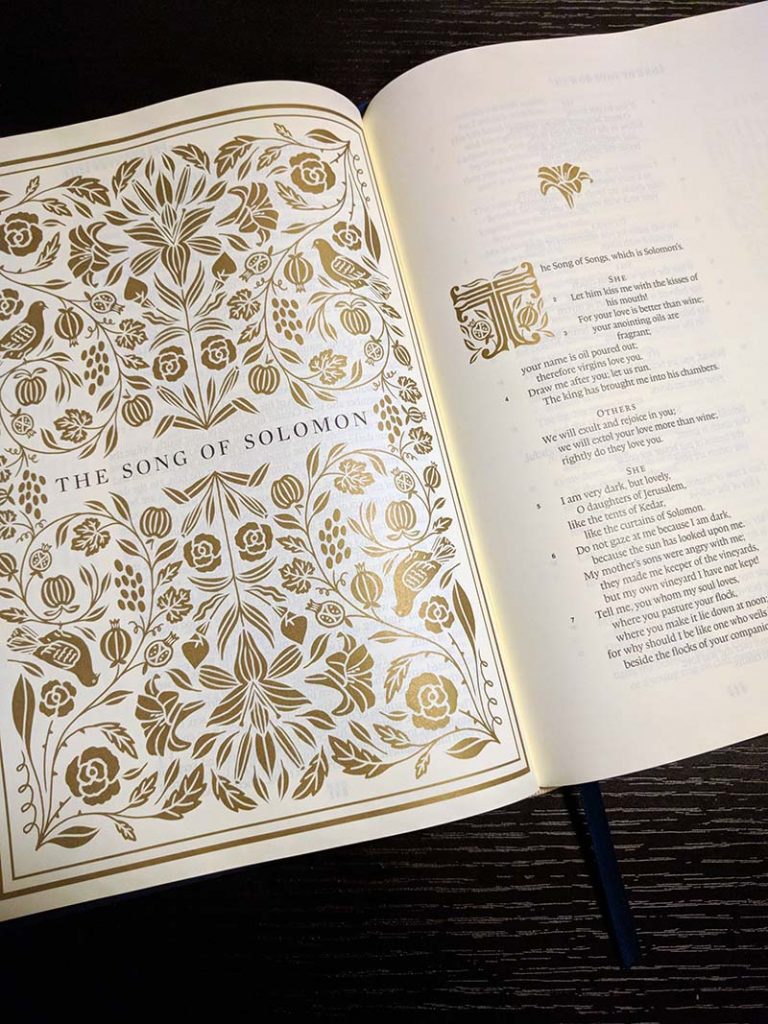 Review
I have trouble writing in books but this Bible encourages you to write in the margins. I like that there are illustrations already there, so I'm less intimidated at the thought of making notes in my Bible. I love that this Bible is ESV, since that is my favorite version, and while I just haven't convinced myself to write in the Bible yet, I'm getting close. In fact, I may let my 9 year old break it in for me since she loves to highlight, underline, and make notes when she reads.
In my opinion, this makes a great family Bible where everyone is encouraged to make notes, illustrations, etc for the entire family to enjoy.
The paper is thick so it's designed for writing on. The illustrations in the Bible are gorgeous. Even if I never end up writing in it, it's still a beautiful book to read, and I just love beautiful books. Because of the thicker paper it's a bit too heavy to easily carry to Church with me, so it's more of a family Bible or study Bible.
I'm just loving this ESV Illustrated Bible and the interaction it encourages!
You can purchase these at Amazon or check out the Illuminated Bible website.
How We Made the ESV Illuminated Bible from Crossway on Vimeo.
And I get to give away a copy of this ESV Illuminated Bible to one of my readers! Enter below for your chance to win.