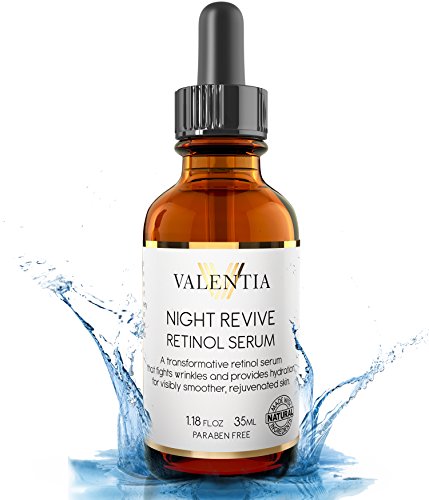 I received this product free for purposes of my review. All opinions are my own.
It's just so much fun that the Valentia brand is named after The Roman Goddess of healing, Valentia. She relied on nature's gifts to heal the citizens of Umbria. And that is what Valentia does as well. Valentia Skin Care products have been formulated with natural and organic cosmetic ingredients that will repair and protect the skin. Their products are free of toxins and paraben-free.
And they work great for me. I have tried several Valentia products and every one of them has been wonderful. Both gentle on my skin and effective. The perfect combination in facial products.
This time I got to try Valentia's Night Revive Retinol Serum. A transformative retinol serum that fights wrinkles and provides hydration, for visibly smoother, rejuvenated skin.
This Retinol Serum Will:
– Diminishes wrinkles
– Stimulates collagen
– Improves skin tone
– Manages breakouts
– Conditions skin
Specially selected ingredients work together to achieve optimum results.
KEY INGREDIENTS:
– Retinol (Vitamin A): Works at the cellular level to stop winkles, manage breakouts, and evens out skin discoloration.
– Vitamin C: Guards skin against environmental free-radicals to prevent premature aging.
– Vitamin E: Provides intense hydration to diminish the drying effects of retinol.
– Squalane: Derived for pure olive oil to soften and condition delicate skin.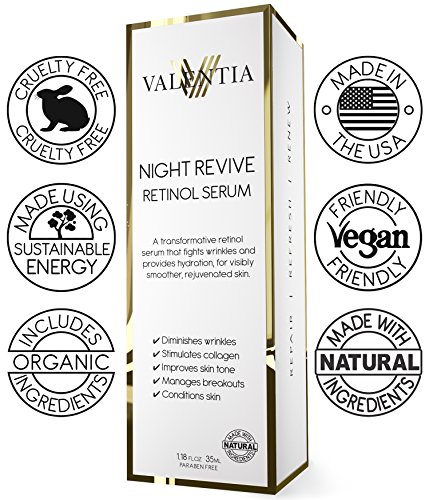 USAGE:
As with all Retinol Serums, you don't want to use it every day. I did this without thinking with this serum and used it 3 days in a row, the 3rd day my skin was just a tad irritated. Nothing terrible, but then I remembered reading on the bottle that I probably only wanted to use this a few times a week or every other day at the most. I dropped back to every 3 days and the results are way better – and non-irritating.
I use it in the evening before applying my nighttime moisturizer. It helps my skin absorb my moisturizer better for softer and more moisturized skin. Just don't use it every day.
This is another great product from Valentia!
Purchase some for yourself at Amazon or from Valentia.com.
Follow Valentia's Instagram and Facebook for product updates and beauty tips.