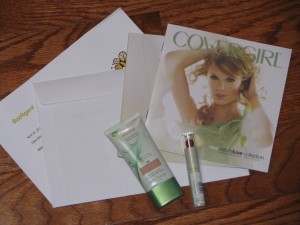 I found this great site the other day. Bzzagent.com. Basically, they give you free products to try in exchange for you talking about the products.
I got my first Bzz Campaign the other day, for Cover Girl makeup. I took a picture of my package so you can see what came in it. I signed up for it and it says they'll send you a free full size product to try but I was a little skeptical. It's hard to know sometimes, it just seemed too easy. Well, yesterday, I got my package, and yes, indeed, there was a full size foundation and lip gloss, as well as coupons for $1.25 off the foundation if I decide to purchase more or if my friends want to try it.
I only wear foundation about once a week so I won't be purchasing any more any time soon but I am looking forward to trying it.
I tried out the lip gloss right away and I really like it. It's just faintly pink so you can't really see that it's adding any color, just a gloss. And it's 10spf so it'll be great for this summer! Just enough sunscreen to keep my lips from getting chapped when I'm out by the pool. And I'm sure my toddler will love it too, since she wears all my lipgloss anyways, she won't even guess that I'm letting her wear it so she doesn't burn 🙂
I'll post a review on the foundation after I try it, it's advertised as being really light so I might actually like it since I'm really picky about the weight of my foundation.