Thanks to ZOKU for 3 amazing products! Check out my reviews of their Stackable Containers and Pocket Straw if you haven't read them already.
This month, I get to give away a Zoku Reusable Stainless Steel Bottle. This bottle arrived at my house and my 6yr old son tried to swipe it before I even got any pictures!
He's basically claimed it as his own and takes it everywhere with him. School, park, back yard, bed, etc. It's quite sturdy and has held up really well to the drops and bumps of being carted everywhere by a little boy.
Check it out on Amazon!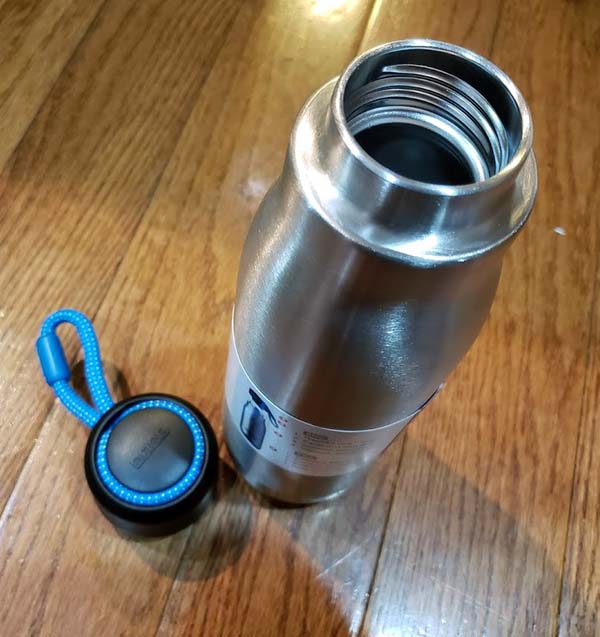 A couple of our favorite features:
Stainless steel – it's basically impossible to damage!
Insulated – ice water stays cold for a really long time. This is really important to my son, he's all about ice in his water!
Wide opening – it's impossible to get ice cubes in a tiny opening. Really, Ice is SO important. It would also be great for adding cucumbers or lemon to your water. It's large enough to get these things in AND out. Though, I wouldn't know, because he won't even share with me…
Blue Lid – I tried to convince him to use a carabiner to clip the water bottle to his backpack, but he prefers to stick it in a pocket. Either way, the blue strap makes it easy to identify the bottle as his, and it makes it easier to grab out of his backpack pocket.
Secure Lid – The lid screws on tight but not too tight. It's easy to get off when you want it off but it isn't going to come off on its own. So a 6yr old can safely toss it in his backpack with everything else and I don't have to worry about water leaking everywhere!
Check out Zoku on Social:
Zoku on social media:
This giveaway runs until March 29th. Winner will be notified by the sponsor.