I received this product for free from Moms Meet (momsmeet.com), May Media Group LLC, who received it directly from the manufacturer. As a Moms Meet blogger, I agree to use this product and post my honest opinion on my blog. The opinions posted are my own.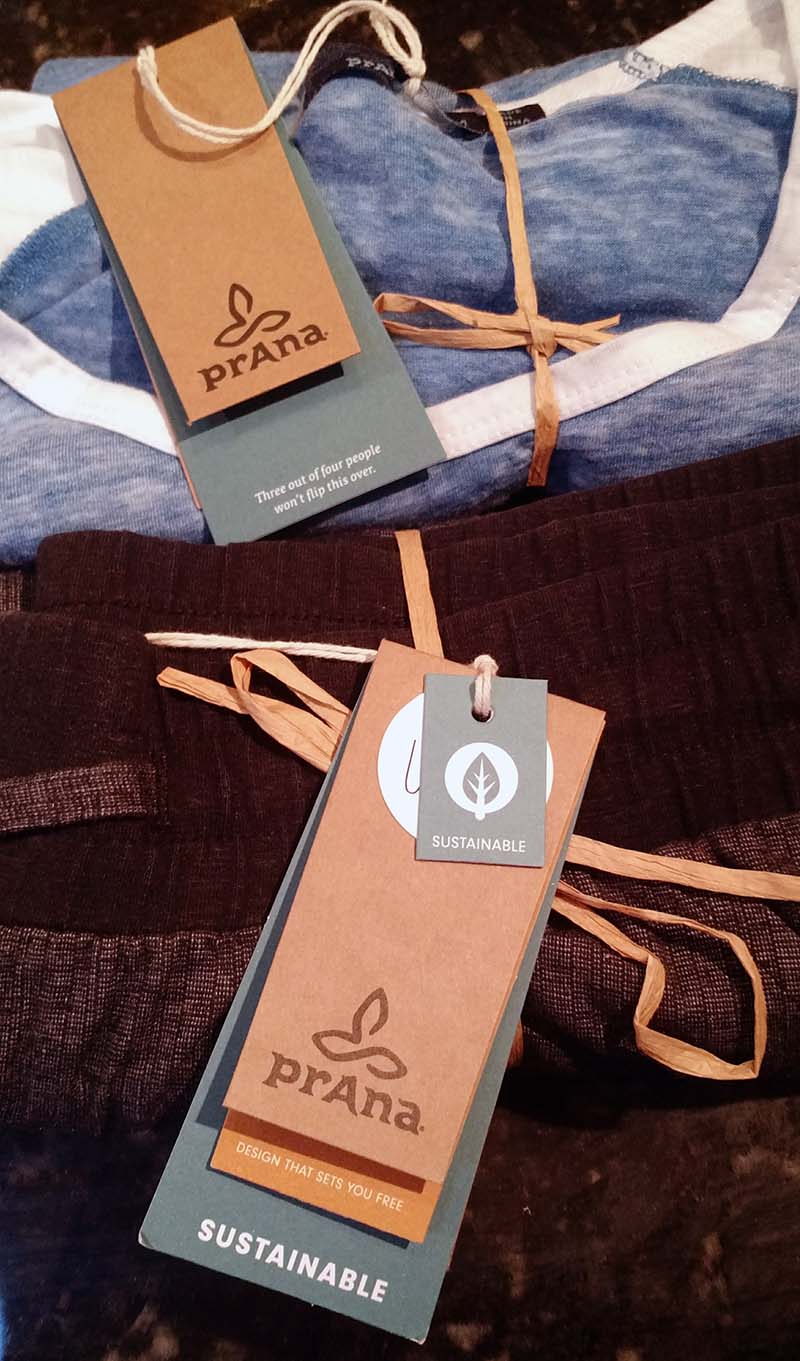 I was so excited to try out prAna clothing! First off, I'm expecting my 4th child and being as it takes me a while to show, I'm forever in that awkward stage where my regular clothing doesn't fit but maternity clothing is too loose. I'm just at 20 weeks pregnant and still fit in my jeans for the most part.
prAna clothing looked comfortable and attractive. Plus since most of the pants have an elastic waist, I can probably wear any of them for my entire pregnancy. How could I pass up great looking AND comfortable!
As an added difficulty, I'm tall, and for pants to be long enough I have to get a tall size. prAna clothing doesn't come in talls, but since I was getting it for free to review, what did I have to loose? I picked out the Mantra Pant in Black Herringbone because it looked comfortable, nice, and long enough.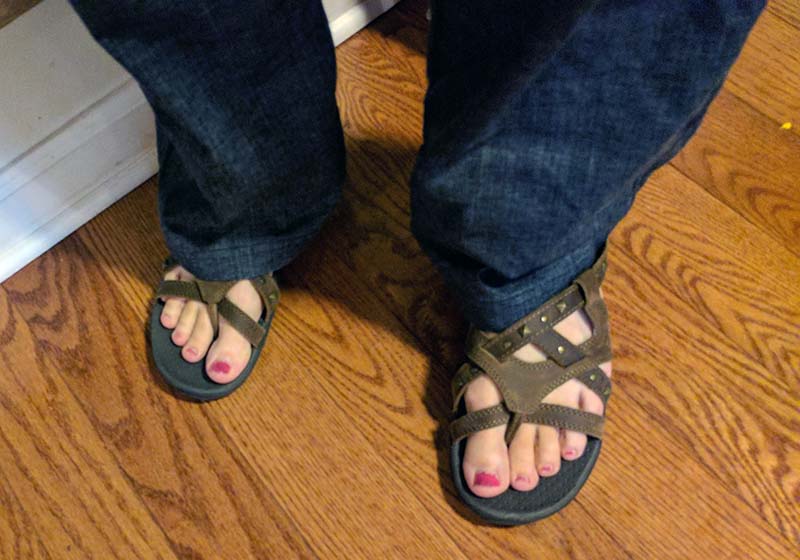 I'm 5′ 10″ and these pants are the perfect length! Not to mention, they're incredibly comfortable. They're also easy to dress up – I wore them to a company dinner with a nice shirt and they worked great.
They have an elastic waist, relaxed fit, and straight leg. Perfect for now and for later after my baby arrives.
And the soft hemp fabric is oh, so, soft! It's very comfortable against my skin. Breathes well, and overall a great pair of pants. Perfect for when I'm active or for when I want to look nice and be comfortable at the same time.
Honestly, these pants are so comfortable I almost feel like I'm wearing pj pants out of the house! Even though when I look in the mirror they look very professional.
Shell: 53% hemp / 44% recycled polyester / 3% spandex
Trim: 53% hemp / 42% organic cotton / 5% spandex
I love these pants! I may just need to purchase them in all the other 4 colors 🙂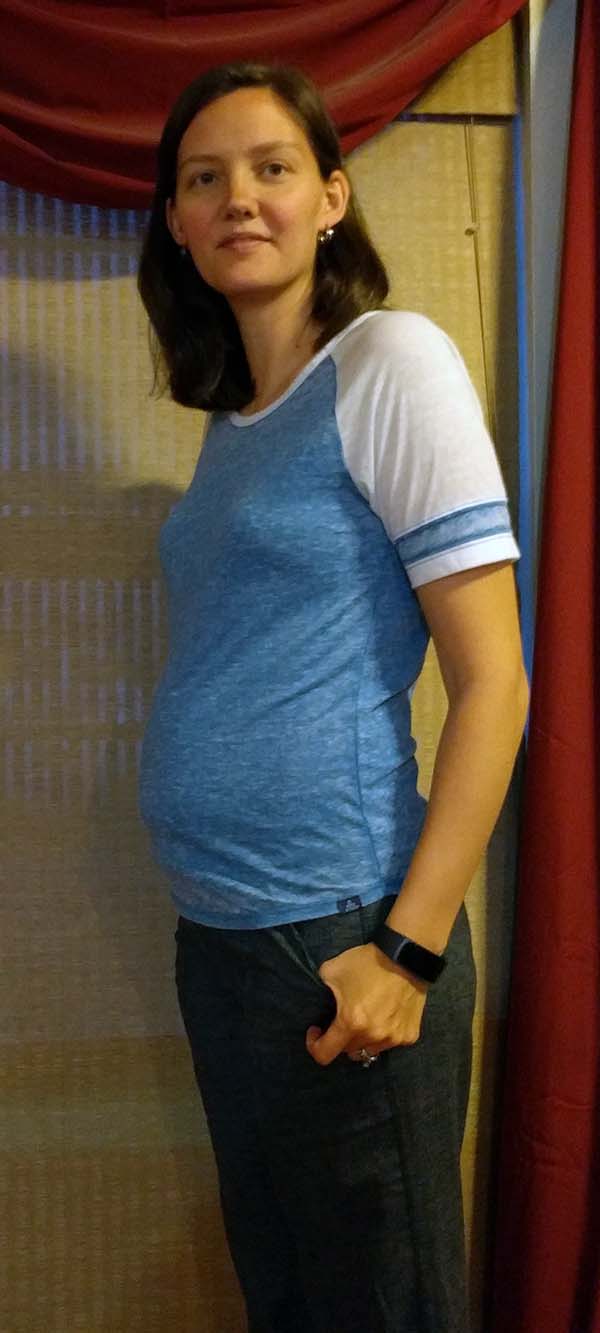 Of course, I have to show off my baby bump, and my new shirt from prAna. The Cleo Tee in Vortex Blue.
I told you that the Mantra Pants are soft. This Cleo Tee takes soft to a whole new level. It's definitely going to be one of my favorite shirts once the baby arrives. Not only is it a great color and one of my favorite styles. It's also so soft, and I love wearing soft shirts when I have a newborn to snuggle.
This shirt is long enough and loose enough I'll be able to wear it for a bit longer, and then it'll be perfect for when I'm nursing.
76% polyester / 24% cotton
It goes great with my new pants! And I'm very happy with my new outfit.
prAna products are made with sustainable materials and support Fair Trade and Renewable Energy initiatives. So, while you're enjoying looking great in your comfortable new outfit, you can also be happy knowing that your clothing supports some great causes as well!
Get 15% off your entire prAna order with code: MOMSCNC

#prAnaMama