This is a sponsored post. All opinions are my own.
Lately, Hubby and I have been discussing when to purchase a new mattress. We've been needing a new mattress for a little while now, but we just can't seem to decide on what mattress to get. He's a back sleeper, and I'm a side sleeper, but we tend to migrate toward the middle of the bed (especially when one of the kids climbs in and joins us) so a mattress with different sides just isn't a good option for us. Which means we need to agree on a mattress.
Speaking of which, have you ever gone mattress shopping with kids? I did, once. It's not happening again – I know, it probably will, because how else am I going to go mattress shopping? But, it's awful. It's a room full of beds. To be jumped on. Rolled off of. Hidden under. Etc. I don't actually get any shopping done.
As you can see. Mattress shopping is going to take a long time. So, what to do with my increasingly uncomfortable mattress in the mean time? I visited my mom a while back and she had this awesome mattress pad on a previously uncomfortable mattress. If that's all it takes to make my mattress more comfortable, I'm all in. But I don't want mattress pad shopping to be a pain like mattress shopping is. Since I do plan to buy a mattress soon, hopefully. I don't want to spend a fortune on a mattress pad either.
This is where Groupon Goods comes in. They have some great deals on mattress toppers & pads that will help me sleep more comfortably until I actually find the time (and energy) to go mattress shopping.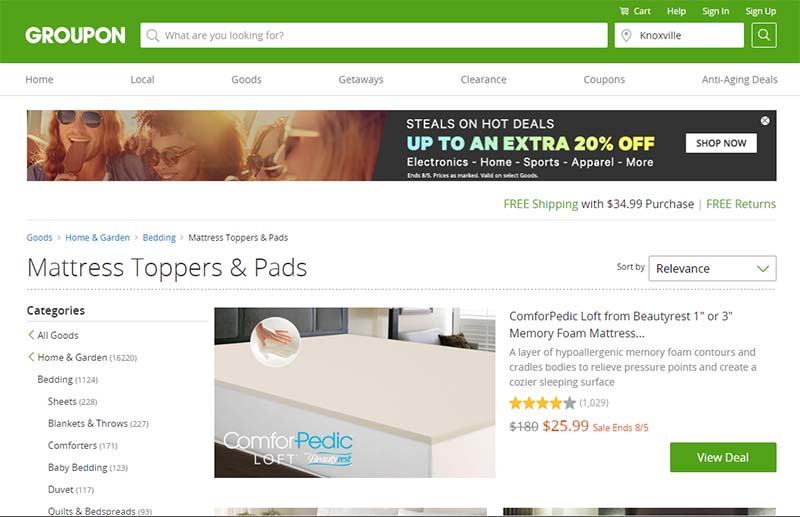 With so many great deals to choose from, It'll be easy to find something that fits my budget. I'm just loving that Groupon has so many ways to save money!
In the comments below tell me, do you have a mattress pad that you love? Maybe I can find it on Groupon Goods and save myself lots of time and money. And sleep better as well!
Oh, and if you just can't get enough of Groupon, feel free to follow their facebook and twitter!