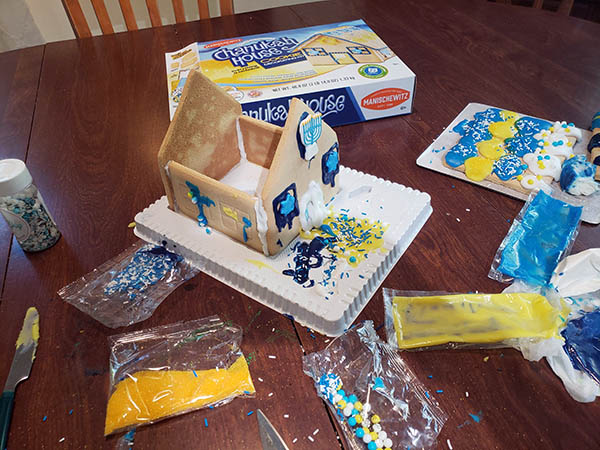 We love making holiday houses and this Chanukah House was no exception!
Made by Manischewitz, this product checks off all the holiday boxes: sweet treats, imagination, family fun, and meaningful giving.
The do-it-yourself Chanukah House cookie decorating kit (MSRP $12.99 – 15.99; 2 lbs., 14.9 oz.) comes with everything children need – from cookies and icing to a sanding sugar and a candy menorah – to build their own edible holiday cottage.
Best of all, when you give this charming gift to a young one, you're also giving the gift of books to kids the world over. Because, the kit is at the center of a special promotion by Manischewitz to drive consumer sales and raise awareness for PJ Library, an organization that sends more than 225,000 free Jewish children's books every month to households in the U.S. and Canada.
I'm always excited about organizations that provide books for kids! Every Chanukah House box features a callout encouraging consumers to sign up for free storybooks of their own from PJ Library.
While the Chanukah House kit is designed for Jewish families, and we're not Jewish, I love things that add to my children's cultural experiences. This was a fun and educational discussion starter. While building (and eating) the house, we talked about the monorah and the blue and white colors of the house and how in Jewish culture they celebrate Chanukah around the same time that we celebrate Christmas – so the holidays always overlap their items in stores.
It was fascinating to see my kids think through how not everyone celebrates the winter holidays the same way, and I loved how excited they were to discover how Jewish families celebrate this time of year.
The Chanukah House cookie decorating kit will be available at Ralph's, ShopRite, Stop & Shop, and Walmart, and on Amazon, among other outlets.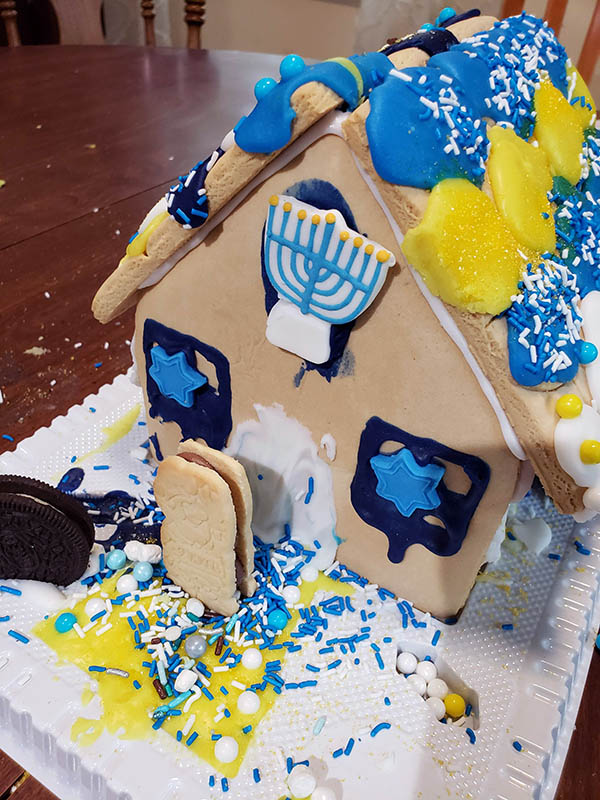 We had some elf cookies and the kids just had to have one of them visiting the Chanukah House. I love how they got into the spirit of celebrating another culture's holiday!
About Manischewitz
The Manischewitz Company has been making traditional Jewish foods since Rabbi Dov Behr Manischewitz first opened a small matzo bakery in Cincinnati, OH in the late 1800s. For more than 130 years, the company's goal has been to provide quality kosher products that bring families together and celebrate the traditions of Jewish heritage. Today, Manischewitz sells hundreds of delicious products to communities across the globe.
About PJ Library
Part of the Harold Grinspoon Foundation, PJ Library is a free program that sends families expertly curated, age-appropriate Jewish children's books each month. At reading time, parents and kids can explore Jewish values and traditions together through engaging stories. The PJ Library experience changes at age 9 when kids can move up to PJ Our Way and choose their own middle grade book or graphic novel every month.  To learn more and to sign up to start receiving free monthly books, visit pjlibrary.org.
Many thanks to Manischewitz for sending over this amazing Chanukah House Kit for me (and the kids) to review!