I just love my latest Influenster Bella Vox Box! So many great products!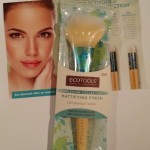 EcoTools Complexion Collection Mattifying Finish Brush
This brush is so very soft!  As in it's so soft you almost don't feel it. It also blends really well – which is what it's supposed to do. It blends my finishing powder in without smearing any of my other makeup.
I love this brush! And it's only $9 from Amazon
, a great price for a terrific brush!
When this product arrived it was melted, not just soft, melted. I don't recommend shipping it to anyone any time soon since the weather is rather hot these days. I stuck it in the freezer and let it harden, then pulled out my tiny cheese chopping block and cheese knife and sliced it up. It was still very delicious! And the kids thought it was pretty awesome to slice and eat chocolate.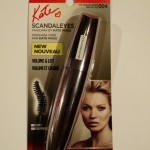 Rimmel London Scandaleyes Mascara created by Kate Moss
I was happy with this product. Rimmel Scandaleyes Idol Eyes Mascara by Kate Moss is also $9 on Amazon. 
I don't wear mascara often because my eyes are sensitive to it for some reason. Happily, this mascara did not irritate my eyes. Horray! It does however bleed a tad more than I like so after wearing it for the evening when I get home there is some black under my eye. I don't think it's noticeable to anyone but me.
This mascara is easy to apply – the curved brush looks hard to use but it actually gives me a lot of flexibility so I can turn the brush which ever way I need to best apply my mascara. It also washes off pretty well – so no black eyes the next day!
This is the best mascara I've used in a long time and achieves 2 of my 3 mascara needs. 1. Does NOT irritate my eyes. 2. Washes off easily 3. Doesn't bleed while wearing (it's not too bad, but I do notice it)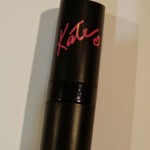 Rimmel London Lasting Finish Lipstick by Kate
I love this lipstick! It's such a great shade. Pink (Shade number 17)
but still a bit muted so my lips aren't neon! They have lots of great shades. I was sent a light pink. It adds color to my lips without being too bold.
This lipstick is also moisturizing and doesn't dry out my lips. It stays on a long time. And it tastes ok. Seriously, there are some lipsticks I can stand because they taste terrible!
This is a great lipstick and I'll definitely be trying out some of the other shades as well.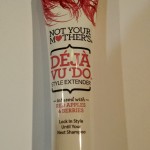 Not Your Mother's Deja Vu Do Style Extender
This is my favorite product that I received in my Bella Vox Box. I have so much trouble controlling my hair! I'm always hunting for a product that gives me more control and less frizz. This product actually keeps my hair tame for days! You know, with 3 little kids I honestly don't get to wash my hair every day.
I'm just loving this Style Extender. It does exactly what it says, it extends my hair style for an extra day or two when needed. And it makes me feel so much better about my hair, even on days when I haven't had time to do anything with it.
It's a bit pricey. Almost $12 on Amazon
, but one bottle lasts a long time and it works so well, it's totally worth it!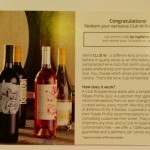 Club W
I actually don't drink wine and they sent a coupon for buy 2 get one free so I didn't end up trying this product. I did browse their website, look at the wines, and recipes. They have some great looking stuff on there!
If you want your own wine they also gave me a coupon code to share use coupon code REFERME on their website for your own buy two get one free wines. Most of their wines are $13 a bottle, so not terribly expensive.
Sally Hansen Airbrush Legs
This product was not in my box, it was supposed to be in there, but got left out :(. I'm so sad. With summer just arriving here, I was so looking forward to trying this out! I received lots of other great products so I'm very happy with my box. This does look like a great product to try if you don't quite have your tan yet but you want to wear a short skirt!
I received these products free for purposes of my review. All opinions are my own.