*I received free samples of these items for purposes of my review*
Tweens start getting more complicated to shop for. They want fewer toys and more personal care items. My tween loves games, beauty products, and baking! So, I've rounded up a few items that I know she'll love.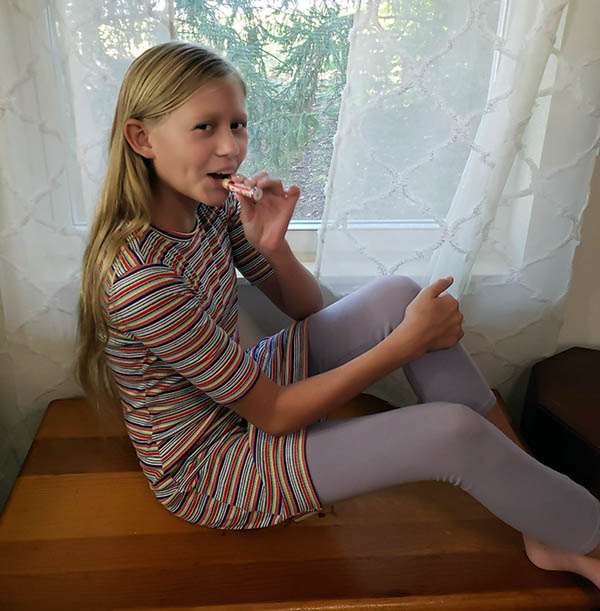 This fun chapstick comes in 3 very festive holiday flavors, Raspberry truffle, Candy Cane, and Gingerbread.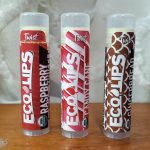 Eco Lips are organic and fair trade so something you can feel good about giving your child.
These are small and make terrific stocking stuffers or buy the multi pack and wrap it as a present.
The way my daughter looses lip balms, I'll need a couple multi packs just to get her to next Christmas.
Not into holiday scents? They have lots of other flavors available. Including tinted products and bee free products. There's something here for everyone!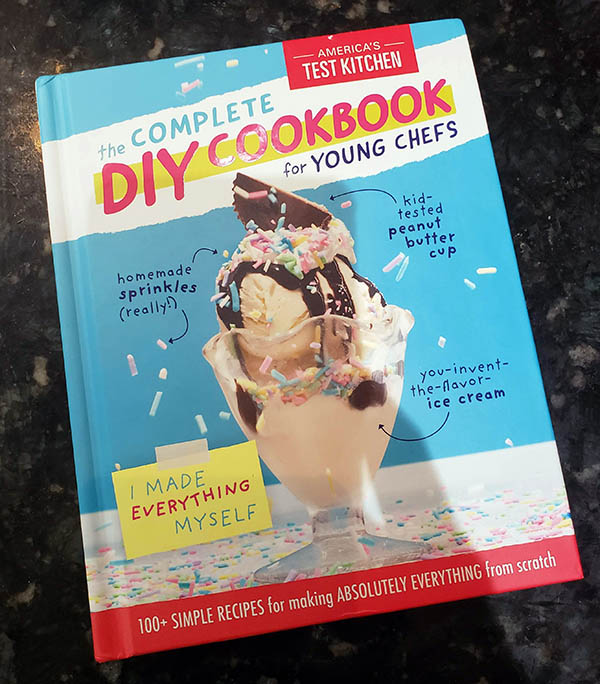 My daughter loves to bake! And this cookbooks is perfect for her. From making your own sprinkles, to sweet and sour dip, to ketchup, to butter, to milkshakes, to really anything you can imagine. The instructions are easy to follow. There's lots of pictures. And everything in here is simple enough that my daughter can do it on her own – though sometimes I just can't resist joining her.
This is the perfect gift for that kid who just loves to experiment in the kitchen!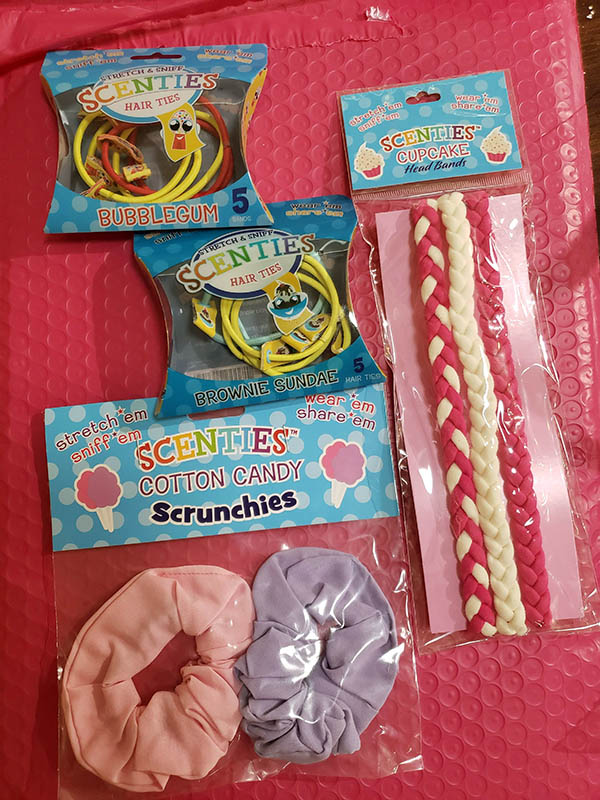 I feel like the 80's are back! Well, the part I loved about the 80's is. Scrunchies!!! And, they're better than ever, they smell like cotton candy, cupcakes, and bubble gum. Honestly, my girls are obsessed with scrunchies. And I can't blame them, they're so easy and comfortable for fixing long hair, and what's not to like about smelling like cotton candy while you're at it.
Out of this set, the bubblegum hair bands are the favorite. We've been using those over and over and they smell like bubblegum every single time. It's so much fun! Plus the little tag on them is just so cute, and honestly makes it just a little bit easier to grab onto the rubberband without grabbing my child's hair.
And, if you really want to be all fun and 2020, they have face masks, with velcro loops that you attach the scented bands to. So you can wear a cute face mask AND sport your favorite scent at the same time. How cool is that?
My daughter has requested one of everything for Christmas!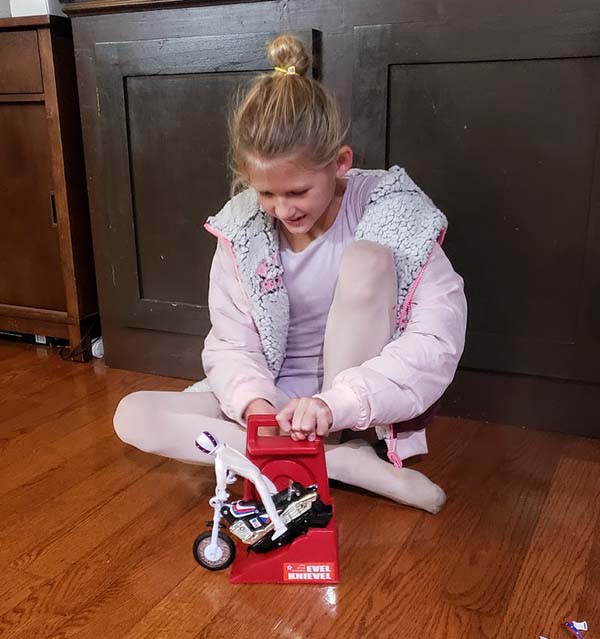 I remember this being a thing when I was a kid. So I was super excited to check out this toy for my daughter.
It's way more fun than I expected! This re-release of a classic toy is so well done! It's quite sturdy and works way better than I was anticipating! All of my kids are having fun with it.
They built some ramps out of cardboard boxes and set up their own stunts in the driveway. They're so cool! The toy is super easy to wind and use, and it balances well. We're still working on mastering the wheelie – sometimes we can get it and sometimes we can't. But, we're close to figuring it out.
This toy has provided hours of fun and creative play and everyone is super excited every time we pull it out. We can't wait to figure out what stunt Evel Knievel can do next!