Katari Beauty sent me 2 beauty products to review. Hoba Oil and Rosewater.
I'm kind of a skincare enthusiast. I love trying new products and rarely stick with the same brand for long. And these days, I'm super excited about all the great new products that are out there. I just need to try them all!
Katari Beauty – Mediterranean is a simple-ingredient skincare routine. There are 2 products. Hoba Oil and Rosewater. For moisturizing and toning.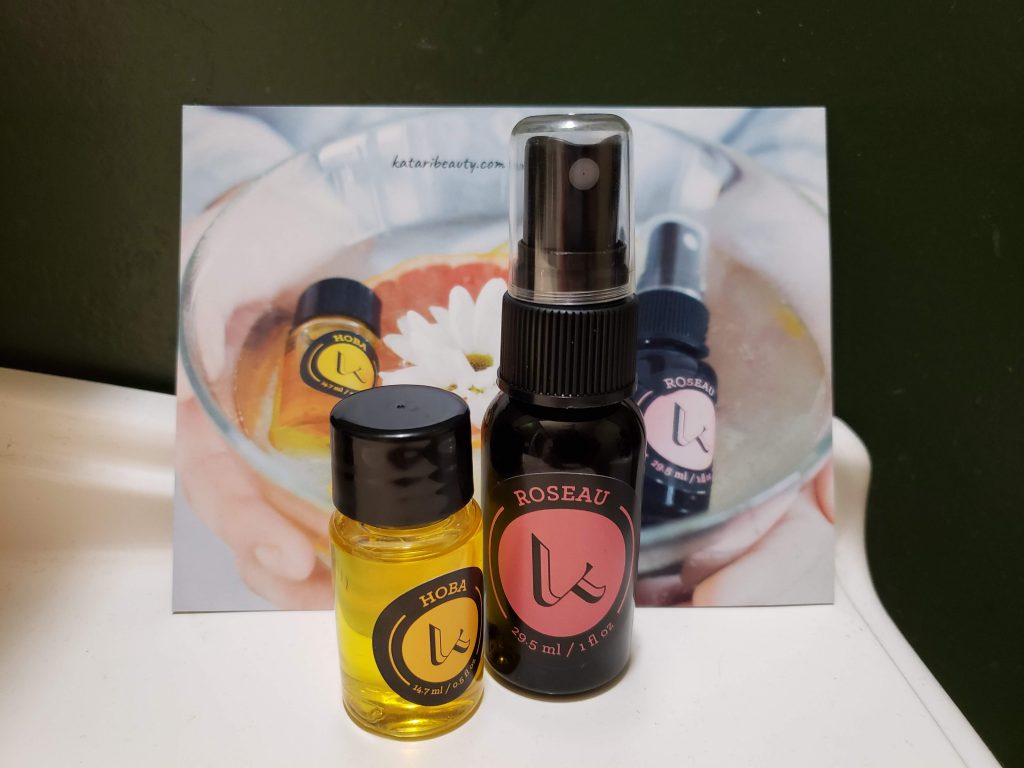 I wash my face with water. This is my preferred cleansing routine as many facial cleansers tend to dry out my skin.
The Hoba Oil is 100% pure JOJOBA OIL – it's a natural primer, moisturizer, hair, beard & scalp conditioner. And perfect for sensitive skin. While I don't necessarily have sensitive skin, I prefer to use products that are gentle on my skin because harsh products do tend to irritate. I just put some on my fingers and rub it in on my face. Since this is an oil, it tends to drip a little so I always have a tad left on my hands that I just rub in – because my hands need moisturizing too.
The Rosweater spray (Roseau) comes in a spray bottle. After rubbing in the Hoba oil, I just add 2 sprays of this to my face. It is 100% pure Rose Water (vapor-distilled rose petal hydrosol), perfect for all skin types. As an added plus, I absolutely LOVE the smell of Rose Water, making this the perfect finish to my facial care routine. Not only is is good for my skin, it smells amazing!
I am loving how simple this routine is and how simple the ingredients are. They're high quality facial products without a bunch of added ingredients. And after almost 2 weeks of using them, my facial skin is holding up well to the cold winter that we're having.
Want to check these out for yourself? Head to their website: Katari Beauty and use code 50offcleanbeauty for 50% off your purchase!