I received a copy of this book free from FlyBy for purposes of my review. All opinions are my own.
The Spirit of God Illustrated Bible brings to life more than 40 Bible stories that help readers understand that God's Spirit has been with us since the beginning of time and continues to be with us today. From the glory of creation through the powerful letters of Paul, God's Spirit is living in his people. Old and New Testament stories such as Adam and Eve, Abraham, Joseph, the Baptism of Jesus, and Pentecost come alive with dramatic illustrations by Fernando Juarez and moving text by Doris Rikkers. With a cover that sparkles and shines with foil, this is a special storybook Bible that will appeal to both children and parents alike.
Author Doris Rikkers is a freelance writer and editor who has written many bestselling children's books and Bibles. Although she loves the ocean, she lives in Grand Rapids, Michigan, surrounded by her books, her flower gardens, and her family and friends.
Illustrator Fernando Juarez illustrates children's books and works as an art supervisor at the Madrid studio Ilion Animation. The company produces 3D feature films for children. Fernando has three kids himself, and if he has any time left after work and family, you might catch him playing guitar in a rock band.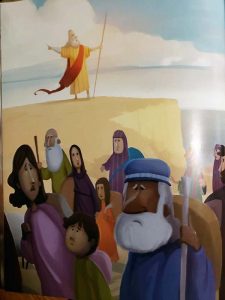 The stories are each a few pages long and are easy to read to the kids. The illustrations are colorful and my kids find them to be quite funny with the oddly sized heads, funny looking animals, etc. They are just loving reading this Illustrated Bible together!
There's a verse at the beginning of each chapter and then the story focuses on how God's spirit moved through the story. It's a perspective I haven't seen before in children's illustrated Bibles and it's quite interesting, even to me, to read these stories and focus a bit on how God is moving in the story and how He's moving the hearts of the people in these stories.
A great book for both me and my children! In fact, I'm pretty sure I'm enjoying this and getting more out of it than they are!
Click here to learn more and view a free sampler of the Spirit of God Illustrated Bible.