*I received these books free for purposes of my review. All opinions are my own.
Colton's Time Machine by Rebecca Massey
I was sent book 3 and book 4. Colton's Time Machine book 3 is about Jefferson, Adams, and Franklin. Colton's Time Machine book 4 is about Betsy Ross, Mount Rushmore, and the Statue of Liberty.
Colton is a little boy with little baby dragons and a time machine in his tree house. They all travel together through time and visit a variety of historical places and historical people. Colton's Time Machine series is a spin off from Colton's Pocket Dragon series. That series starts with him finding dragon eggs, helping them hatch, and discovering his dragon friends.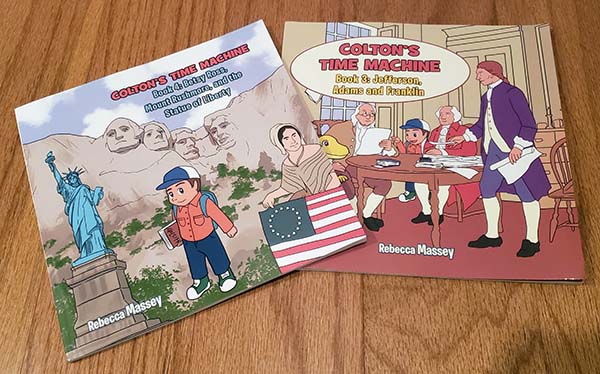 Colton's Time Machine books each cover 3 historical people or places in American history. The story spends a lot of time on Colton and his Dragons in funny situations back in history and is interspersed with dates and important facts about the historical figure or place. A great way to share historical information with kids without overwhelming them with too many details.
You can purchase all these fun Colton books on Amazon!