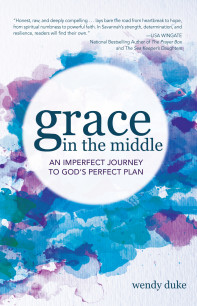 Grace in the Middle – An Imperfect Journey to God's Perfect Plan
After years of trying to get pregnant, Wendy and Scott Duke were finally going to have their first child. But when a dangerous pre-natal diagnosis followed by an even more lethal disease after their daughter's birth threatened to immediately take their newborn away, the Dukes turned to their only hope: God. In Grace in the Middle Duke encourages readers through the amazing story of her young daughter's victory over some of life's most perilous afflictions.
Anxious, frustrated, and scared, Wendy and Scott braced themselves for the unknown. In Grace in the Middle, Wendy recounts how her faith was rattled throughout the pregnancy.
Grace in the Middle details the physical, emotional, and spiritual struggles Wendy and Scott faced during the pregnancy and the treatments for their daughter Savannah's cancer. Duke reminds us that God was always there for her even when she might not have felt His presence. She continually emphasizes the importance of having the love and support of family and a church, highlighting the richness in spiritual growth that takes place through such difficult trials. The first few years of Savannah's life were difficult—there's no denying that. But, as Duke is attentive to remind, God is stronger and more powerful than any curveballs thrown at a believer. Grace in the Middle even includes a chapter written by Savannah, who is now almost 15 and living a normal, busy, teenage life.
I really loved this book. It's not a feel-good kind of book. I was in tears halfway through the first chapter. Being a mom myself it's always heart-wrenching to read or hear about another mom losing a child (multiple miscarriages in this case) or something not going quite perfectly in a pregnancy.
As sad as the book is – and I think it's good to admit that when things like this happen, we are sad and hurting – it was also so encouraging to read about how the author found God throughout all these difficulties and about how her faith was strengthened through these trials.
It's an encouragement to me and it's so encouraging to see her stepping out and sharing her painful journey with others in a way that encourages and strengthens our faith and shows how God is sovereign through it all.
Whether your own faith is being challenged by trials or you just want to be encouraged and challenged yourself, you'll be encouraged, challenged, and pushed to go deeper in your faith and to not fear what the future has in store.
If you want to find out more or purchase your own copy, Grace in the Middle is for sale on Ambassador International's website.
You can also find out more about the author, Wendy Duke on her website, or follow her on twitter and facebook.
I received this book free for purposes of my review. All opinions are my own.