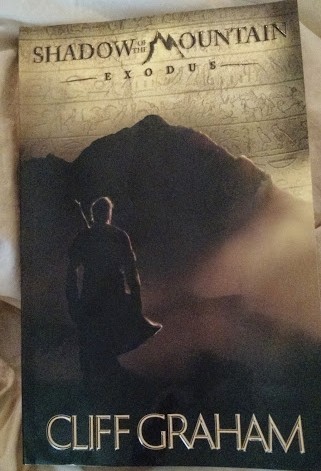 It's been a really long time since I've read Christian fiction. Long time as in, I was about 12 the last time I read Christian Fiction. I read 2 kid's Frank Peretti books and they scared me so much, I haven't read Christian Fiction since then.
I've been wanting some new books to read and this review opportunity came up. From the description it looked like a book that I would like so I decided to give it a shot.
I'm so glad I did! I absolutely loved this book! Also, it says it's the first in a series, so I'm looking forward to reading the others as they come out. I can't wait to see who Cliff Graham is going to write about next.
Shadow of the Mountain is a Fictional backstory for Caleb in the Bible. Lots of excitement and adventure and a really great story about how he became who he was.
I can't say a ton about the plot because I don't want to give anything away. It's easy to read, the story flows well, and I thoroughly enjoyed it. I don't often stay up really late reading but I pulled a couple of late nights reading this book.
If you're looking for something new to read, you should give this book a try! I'll make it easy – You can go here to buy Shadow of the Mountain: Exodus
on Amazon.com.
I received this item free for purposes of my review. All opinions are my own.