I've done quite a few posts about my favorite subscription boxes. So, I have to include a couple that I like for my husband and son! I received both of these boxes for free to review.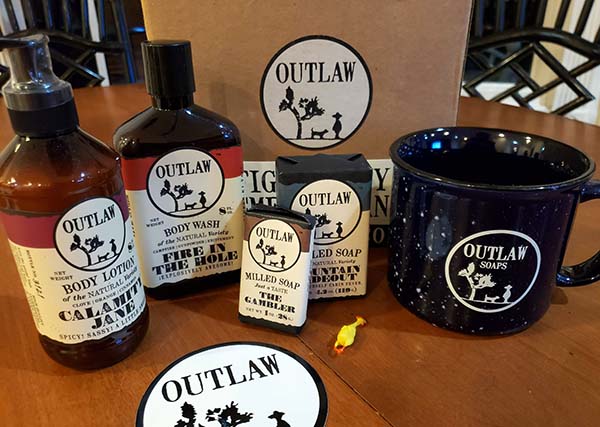 Live Outlaw Soaps is pretty awesome! You know how little boys can be about bathing … it's just not their thing. And, I'll be honest, I can't blame them. Most bath soap is very fruity or sweet smelling. Not exactly exciting to a boy.
Well, my Outlaw Soaps box came in the mail and my 7yr old was super excited when I told him that it could all be his. These soaps have very manly scents. Honestly, perfect for guys. My son actually doesn't fight me about taking a shower.
The scent sticks around for a while, so my kid actually smells good for more than 5 minutes! I'm loving the quality and fun all wrapped up together in these soaps. Seriously though, when my box arrived, I could smell the soaps before I opened the box!
I've considered stealing the Calamity Jane lotion from my son, because it smells so good, but he's informed me that even though these are called Outlaw Soaps, stealing is not allowed.
Though, to be honest, The Gambler is my favorite. It's on the counter in the boys bathroom for hand washing and it makes the entire room smell good!
Outlaw Soaps has subscriptions ranging from $7 to $67. There's 12 different subscription combo options, from a monthly bar of soap all the way to a bi monthly box with cologne, deodorant, soap, and lotion. You have the option of sticking with your favorite scent forever or a different scent in every box. There's some really flexible options here so you are easily able to get exactly what you want every month.
You can even gift a subscription for a selected amount of time (anyone know of someone who could use a fun set of soaps for Christmas?).
Don't want a subscription? You can also purchase each item individually. They have soaps, body wash, hand wash, lotion, cologne, deodorant, air fresheners, and beard oil. More than everything my son needs to stay clean and smell great!
All in all, a terrific subscription or gift!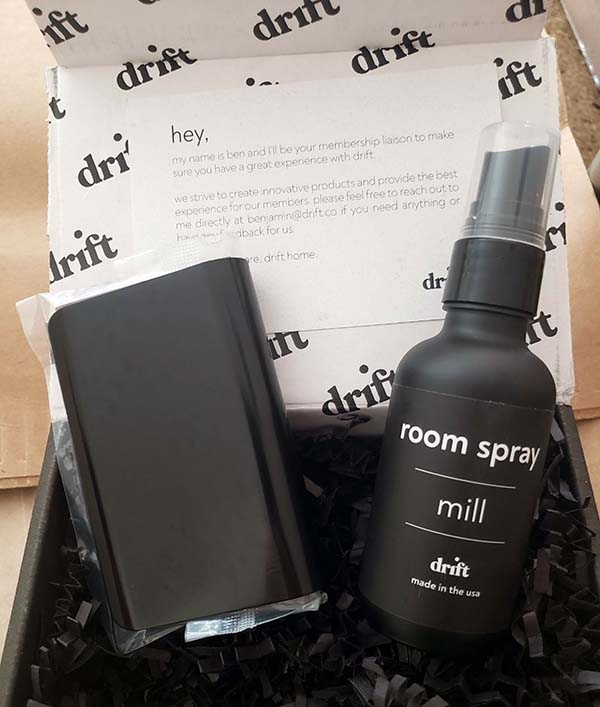 Drift has 3 subscription options. Wood visor freshener, rove vent freshener, and room spray. I was sent the Mill wood visor freshener and the Mill room spray. They're both great, robust, scents!
The Room Spray is in my kitchen window and I use it when the house just needs a little freshening up scent wise (you know, I made fish for dinner and I don't want to smell it all through tomorrow). It's a great scent, and a little goes a long way.
The Wood visor freshener is my favorite though. It's this little cedar wood block soaked in essential and fragrance oils that you just slip inside your black visor clip each month (you can see the visor clip in the picture with the wood block still packaged inside of it) You can get a subscription for monthly or bi monthly and you can pick your favorite scent or the scent of the month and they'll send you a new limited edition scent every month. With scents like zen, grove, and teak, they're perfect for making the car smell great without being obnoxious.
What's more, the black visor clip keep the scent block well hidden on the top of your visor. My husband used the block in his car and loves it! He said it was really strong the first couple of days, and you want to be careful not to touch the wood if at all possible – he touched it and then his hands smelled like his car air freshener for the rest of the day. But, this is definitely something he would be excited about receiving every month. He loves having his car smell great! And at $8 a month, this is a great price!