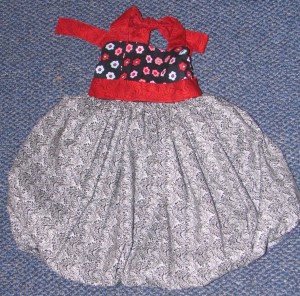 I absolutely LOVED this bubble skirt dress pattern!
It's McCall's M6271. You can do it long or short, and there's also shorts to go under the short dress version.
I made the longer version since my little girl refuses to wear shorts.
And it's adorable! I've tried out several bubble skirt dress patterns and this is the first one that I've liked. I think because this pattern has LOTS of fabric in the skirt so it's nice and poofy. Guaranteed to make my little princess happy!