I received a copy of 30 Days to Understanding the Bible by Max Anders for free for purposes of my review. All opinions are my own.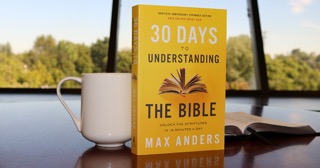 Review
I like Devotions, to a point. But, what I really like is a good Bible Study. This 30 Days to Understanding the Bible by Max Anders is a terrific guide to Studying the Bible!
This study goes through the structure of the Bible, the Geography of the Bible, and then walks through all the different eras or time spans in the Bible. And, then after you've thoroughly explored geography and time, it goes over 10 Biblical Doctrines such as the Holy Spirit, Angels, and Sin.
At the end of the book are 8 bonus chapters that cover things like comparing the 4 Gospels and different literary forms in the Bible.
I loved all the Geography and timelines! I enjoyed the Biblical Doctrines as well, but my favorite parts were definitely the Geography. It's so helpful to have a better understanding of where and when events are happening!
I enjoyed this study on my own, but, if you'd rather do this as a group, there's a 13 session teaching plan in this book. This would make an amazing group Bible study! And something I would love to go through again with a group. I think the Biblical Doctrine sections would be especially interesting in a group. You know, get some different perspectives and really dig into these together.
I thoroughly enjoyed this book. It got me digging deeper and thinking more and understanding better. And, if you're like me, and you love all the extra little details – like timelines – you'll love this book as well!
Find out more!
Buy link: http://bit.ly/30DaystoUnderstandingtheBible
Promo video link: https://youtu.be/6J8xqfbsGBM
Official website: http://www.biblein30days.com/
Enter to win
I get to give away 1 copy of 30 Days to Understanding the Bible by Max Anders. Enter below for your chance to win!